WEEKEND RETREATS:
Due to Covid Restrictions, all group workshops are suspended. Please contact Beth if you are interested in a private workhop.
Rising Strong™ Workshop is based on the latest groundbreaking research of Dr. Brené Brown.
Would you like to learn positive, proactive tools and strategies to live a more satisfied and wholehearted life?
Brené Brown's research findings help people find the strength and courage to rise strong in their personal and professional lives.
The Rising Strong ™ Workshop in San Francisco is led by Beth Jaeger-Skigen, LCSW 
Beth has helped individuals, couples and groups lead more meaningful lives and create more satisfying relationships for over twenty years.
Beth Jaeger-Skigen, LCSW is a Licensed Therapist, certified Daring Way™ and Rising Strong Faciliator, Workshop Leader and Organizational Consultant in private practice in San Francisco.
Over the Rising Strong ™ Workshop Weekend, Beth will guide the group with many positive psycho-educational and experiential exercises, personal exploration, videos from Brené Brown created specifically for Rising Strong™ participants and an opportunity for personal reflections and growth in a safe, supportive, positive and fun environment.
The Rising Strong ™ Workshop for Women is designed to address your personal goals, relationships, professional and creative lives.
Would you like to have more joy, gratitude, contentment, authenticity, calm and creativity in your life?

Would you like to have more self compassion and acceptance?

Are you dealing with any life transitions?

Would you like strategies for getting back up after a fall or setback in a personal and/or professional relationship?

Do you find your inner critic running the show and struggle with self esteem and confidence at times?

Do you want to feel more empowered to make positive changes in your life?

Are you tired of hustling for acceptance from others?

Do you want to demonstrate more compassion and empathy to deepen your connection to others?

Are you able to embrace your imperfections and find the power in doing so?

Are you ready to embrace the power of your own life story?
Rising Strong™ is based on the simple physics of vulnerability: If we are brave enough, often enough, we will fall. 
When we take risks in our lives, we will inevitably fall and experience disappointments, failures and heartbreak. 
This is a program about what it takes to get back up and how owning our stories of struggle gives us the power to write a daring new ending.
Struggle can be our greatest call to courage and the clearest path to a wholehearted life.
By participating in The Rising Strong™ Workshop for Women, you will have the opportunity to explore how to live bravely every day by showing up in the arenas of your life and relationships to become the best, most authentic version of you.  The method is designed for work with individuals, couples, work teams and organizational leaders. It can be facilitated in clinical, educational, corporate and professional settings.  
The Rising Strong™ Workshop for Women led by Beth and Michelle will be safe, supportive, positive and fun.
Space is limited.  Please register early to guarantee space.  We look forward to meeting you!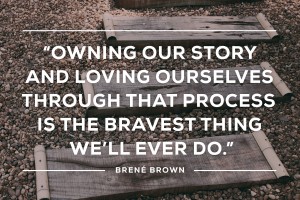 The Rising Strong™ Workshop of $750 includes:
Rising Strong ™ Workbook, Coffee, Tea, Continental Breakfasts, Healthy Snacks & Picnic Lunches
+ Optional Fireside Wine & Cheese with Beth
 FAQs
Where is The Rising Strong™ Workshop located?
The Rising Strong ™ Workshop for Women will be held at the Inn at the Presidio in San Francisco.  This is an award winning boutique hotel in the heart of the Presidio. It is a national park site and National Historic Landmark at the Golden Gate. Inn at the Presidio offers an authentic historic experience and exceptional recreational opportunities in a setting of immense natural beauty. The historic hotel in San Francisco is located at Pershing Hall, an elegant home for bachelor officers when the Presidio was a U.S. Army post. The Georgian Revival-style building has been restored as a guest lodge. 
If you would like to stay overnight, contact (415) 800-7356 for reservations. 
Cancellation Policy
Your registration fee is non-refundable, but transferable within 12 months of the registration date.  However, if you cancel within 72 hours or fail to show up for the workshop, there will be a $75 transfer fee applied. All Rising Strong ™ Workshops are enrolled on a first come, first serve basis.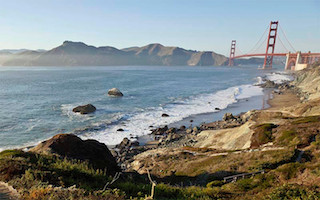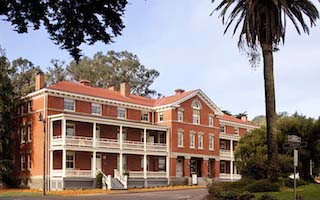 What are my transport/parking options getting to the event?
Parking is available for $8 per day.  You can purchase your parking pass from the lobby on the morning of the workshop.  If you need transportation arranged for you from the airport or from another Bay Area location, contact The Inn and the Presidio (415)-800-7356 and they will arrange for a car for you.
Where can I contact the organizers with any questions?
Beth@TherapistSF.org or call 415-317-4893
ABOUT BRENÉ BROWN:
The Daring Way™ and Rising Strong™ method is based on the research of Brené Brown, Ph.D. LMSW.
Dr. Brené Brown is a research professor at the University of Houston Graduate College of Social Work. She has spent the past thirteen years studying vulnerability, courage, worthiness, and shame. Her groundbreaking research has been featured on PBS, NPR, CNN, and Oprah Winfrey's Super Soul Sunday. Brené is the author of three #1 New York Times Bestsellers; Gifts of Imperfection: Let Go of Who you Think You're Supposed to Be and Embrace Who You Are (2010), Daring Greatly: How the Courage to Be Vulnerable Transforms the Way We Live, Love, Parent, and Lead(2012), Rising Strong: The Reckoning, The Rumble, The Revolution (2015). She is also the author of I Thought It Was Just Me (2007). Brené Brown's 2010 TEDx Houston talk "The Power of Vulnerability" is one of the top five most viewed TED talks in the world, with over 25 million viewers. Additionally, Brené gave the closing talk at the 2012 TED conference where she talked about shame, courage and innovation.
Testimonials from Rising Strong™ participants: 
The Rising Strong Workshop led by Beth Jaeger-Skigen was conveniently located in San Francisco but I felt like I was swept into a retreat center miles away.  Beth created a safe environment and it was an amazing supportive community. Beth is an engaging and wise leader. I felt like every exercise applied to various parts in my life and were taught in easily digestible, creative and fun ways.  I did walk into the workshop feeling some anxiety but throughout the weekend, I felt a lot of hope for me to find more joy, calm and balance in my life.
When I went back to work on Monday, I felt centered, less anxious and had more energy than I've had in months. After the Rising Strong Workshop, I now feel like I have new tools and strategies to jump- start my life towards whole hearted living. I look forward to incorporating what I learned about Brené Brown's research and the Rising Strong philosophy into my daily practice.  
 Eva, San Francisco
I am absolutely impressed and delighted with my experience of Rising Strong Workshop led by Beth Jaeger-Skigen, LCSW and Michelle Gannon, PhD. Having already done an online course taught by Brené Brown, I wasn't sure how much more I could get from the live workshop, but Beth and Michelle have a beautiful, warm, playful way of bringing the entire experience to life in two short days.
Every detail was offered from meals to supplies and several fun surprises ensuring that we felt nourished and nurtured as we explored some pretty tough stuff. The participants were all courageous and supportive. Michelle and Beth were empowering and respectful. The materials, videos and process were stimulating and impactful. The weekend flew by, and I was pleasantly surprised that I gathered some missing pieces of something I had been working on for awhile. Most importantly, I had a breakthrough with out wringing myself inside out. It was fun and I was energized, and the impact is with me every day. Good things will come of this for me! I highly recommend Rising Strong Workshop with Beth and Michelle for those new to personal growth as well as seasoned workshop participants and professionals in the personal growth field. You won't regret it!!
Barbara
San Francisco
The Rising Strong Workshop with Beth and Michelle was a valuable and exciting experience. The facilitators were warm, inspiring and 100% safe. The content, videos, messages and materials were also very powerful and helpful. I left the workshop feeling empowered, more in touch with myself, and motivated to create change in my life. This was a beautiful experience and Michelle and Beth are incredible- they are truly authentic and knowledgeable. There was never a dull moment and I loved hearing their real life examples and stories. If you have the chance to attend one of their workshops, you will not be disappointed.
Devon
San Diego
I thoroughly enjoyed the Rising Strong Workshop led by Michelle Gannon PhD and Beth Jaeger-Skigen, LCSW. Brené Brown's work has truly amazing insight and creativity. The video clips that were shown by Beth & Michelle were educational and enlightening. And I absolutely LOVED all the quotations (I am a writer, myself!) Thank you so much for the opportunity to benefit from such an outstanding event in San Diego. 
Judy
San Diego
I flew in from Portland, Oregon to San Francisco to take the Rising Strong™ Workshop led by Beth Jaeger-Skigen and Michelle Gannon. I am so grateful I did. Rising Strong™ Workshop had and continues to have a profound impact on my personal life as well as my professional growth. Before attending the workshop, I had already become familiar with Brené Brown's work by watching her TED talks, reading some of her books and facilitating a Brené Brown group on shame resiliency. However, as Brené Brown says, shame happens between people and it can only be healed between people. That is why the Rising Strong Workshop experience deepened my own shame resiliency work as well as my healing process and it gave me the tools to get up and move forward from the setbacks that life has inevitably thrown at me. I highly recommend this workshop to anyone who wants to take the leap from disappointment and failures into wholehearted living. It was worth every penny. And if it's hard to do things for yourself, take it from me, you'll be so glad you did.
Deidre
Portland, Oregon